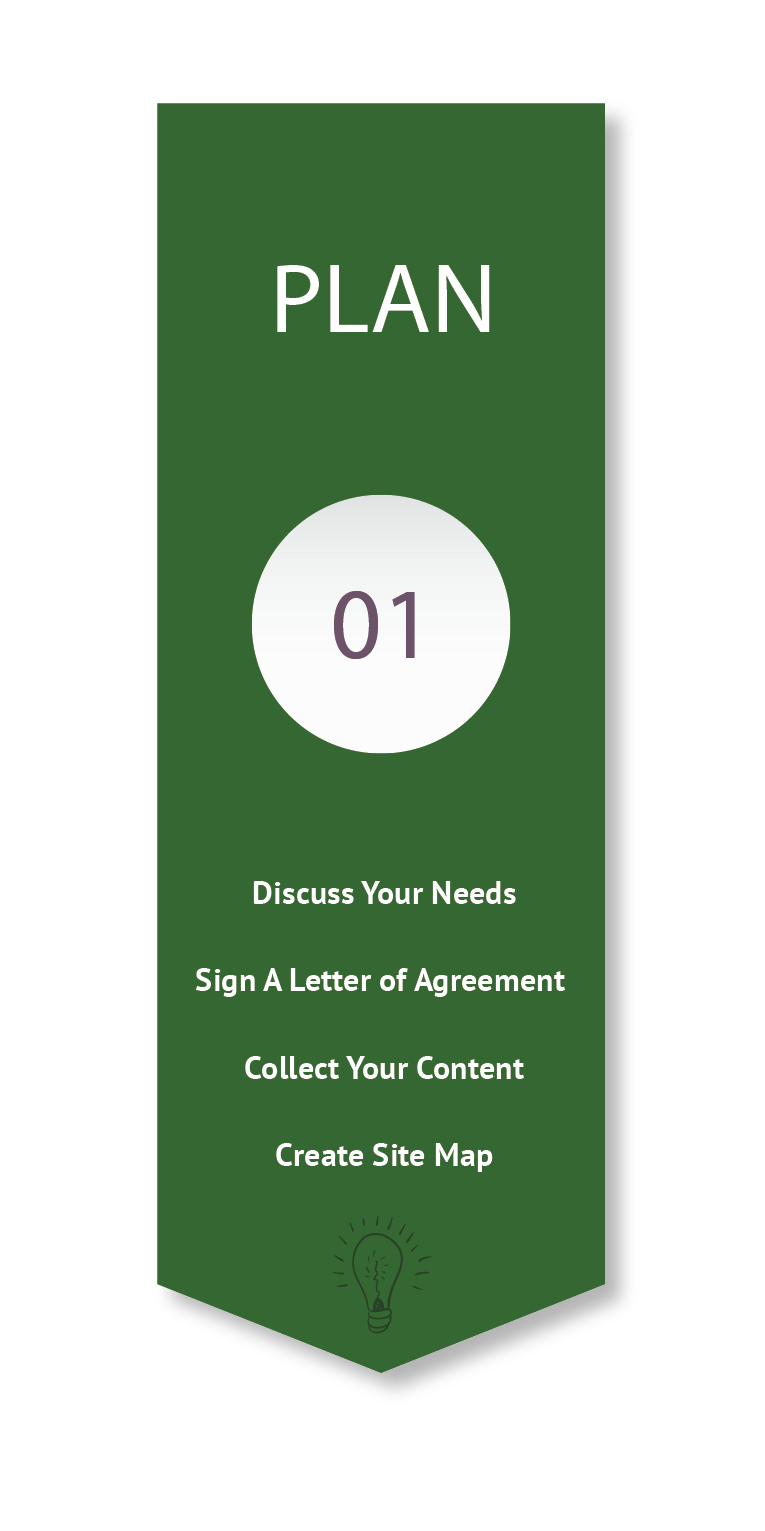 Step One: Plan
It is important that your web designer starts out by asking some questions to make sure they understand your company and the desired results to have for your website. Your web designer will schedule a time to go over the collected information with you. This will be done over the phone or video conference call and at whatever time is most convenient for you. Normally, this phone call will last around 30 to 45 minutes. During the call your web designer will need to determine and understand your 1.) Purpose, 2.) Goals, 3.) Target Audience, and 4.) Content.
One other topic your web designer will need to determine is whether you will require a new domain name, web hosting, or if you plan to transfer an existing website to our servers. WebUpMedia does offer domain name registration and web hosting services. If you do not wish to use our services, we can also recommend other companies as well.
Sign A Letter of Agreement
WebUpMedia will always do our best to fulfil your needs and meet your goals, but sometimes it is best to have a few simple things written down so that we both know what is what, who should do what and what happens if things go wrong. In this letter of agreement you won't find complicated legal terms or large passages of unreadable text. We have no desire to trick you into signing something that you might later regret. We do want what's best for the safety of both parties, now and in the future. With that said, this letter of agreement will only state the aggreed conditions of the project.
Now it's time in the website design process is to collect information. This is one of the most important steps in the design process because it provides a solid understanding of the content which needs to be organized within the layout of the website. Additionally, the content you offer for the development of your website will define your business and the marketing goals you want to set out to achieve. WebUpMedia will utilize this information to better help you achieve these goals.
Using the information collected in the planning process, it is time to put together a map for your website. In this section of the design process we will create a site map. The site map is a list of all the main topics areas of you site, as well as any sub-topics. Your web designer will use this content as a guide for what your website will contain. This will serve as a guide as to what content will be on the site and is a vital component to developing a consistent navigational system for the users who visit your site. An easy to use website will provide an enjoyable experience for the end-users aka your customers.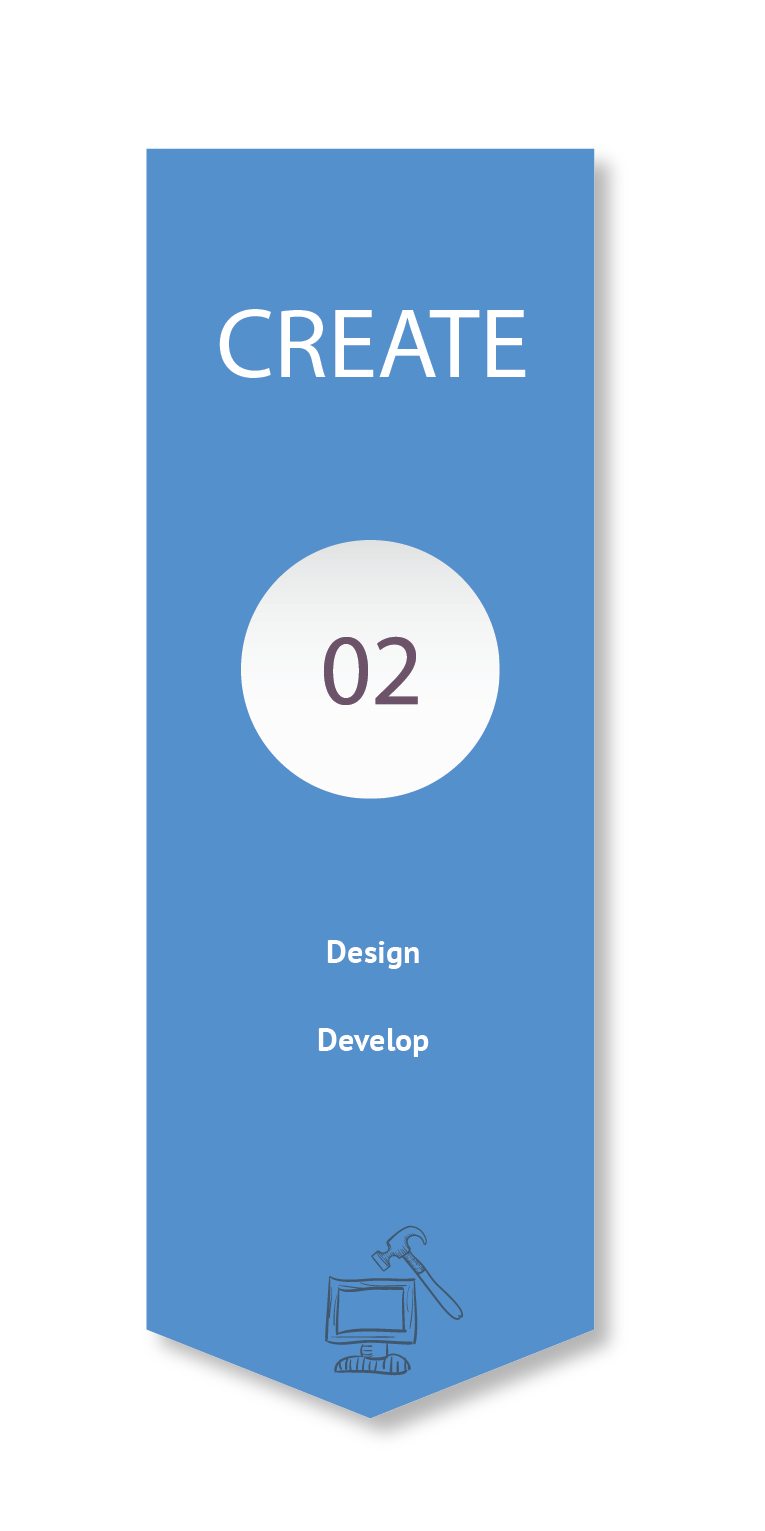 Step Two: Create
It's time to start creating your digital masterpiece. Your web designer will pull from the information collected in step one and begin to construct the best way to present this information. Of course, your target audience will be one of the top factors to consider in the designing process. A site selling children toys, for example, will have a much different look than one selling financial services. As the design for your website comes together we will incorporate things such as your company logo and colors. This details will reinforce the distinctiveness of your company's brand.
Your web designer will create a prototype design of your website. This will either be a .jpg or PDF image of what the final design an online copy, which cannot be accessed by the public. Once completed you will be sent an email containing the mock-ups for your newly designed website. This will give you the opportunity to express your likes and dislikes of the design. It is very important to your web designer that the final design matches your needs and taste. So, you will need to provide continuous feedback about the design until you are satisfied. Your web designer will not publish the site to the public unless you are 100% satisfied with the final design of your website.
*NOTE:
During the entire design process, your designer will continue to make your in-progress website available to you for viewing, so that you can provide suggestions for any additional changes or corrections you would like to have done.
From start to published, WebUpMedia creates the design of your site on a digital platform, which significantly reduces the time spent on getting your site ready to be published. All that is left to do during the development process is checking the HTML / CSS code. Your web designer will completely go over all the content throughout your site to make sure all code complies to current web standards, maximizing functionality, as well as accessibility for as large an audience as possible. Elements such as interactive contact forms, or ecommerce shopping carts are tested to ensure they are functional during this phase, as well.
*NOTE:
ALL CONTENT including your MOBILE SITE will be tested in the next step…
(Everything must be PERFECT!)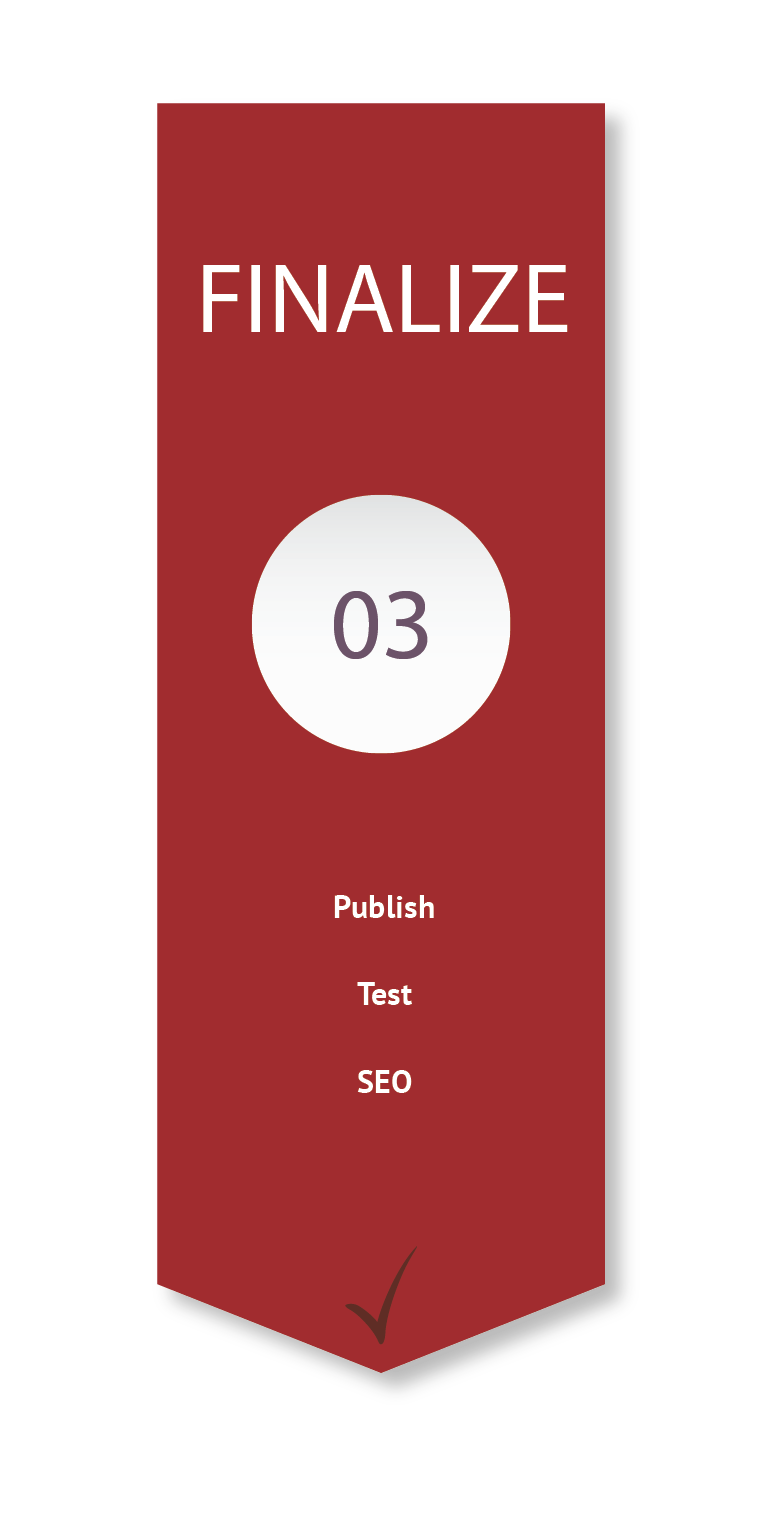 Step Three: Finalize   
Now it is time for your web designer to make any last-minute adjustments before finalizing the entire design and publishing your newly created website. Once you give your web designer your final approval, your newly created website will be made viewable to the public and all search engines. With that said, we will continue to test and moderate your website long after it has been published. This is just a precautionary we take to confirm all files have been uploaded correctly, and that the site continues to be fully functional. Furthermore, WebUpMedia will always be available to make any other changes you wish to make to your website's design.
Once your website is published, it will be tested for things such as the complete functionality of forms or any other scripts, as well as compatibility issues. For example, you web designer will viewing differences between a wide-variety of web browsers), ensuring that your website is optimized to be viewed properly in the most current browser versions.
WebUpMedia is knowledgeable about all current standards for website design and development. For example, the basic technologies currently being used are Hypertext Markup Language (HTML) and Cascading Style Sheets (CSS). As part of testing, our website will be tested to make sure all the code written for your website validates. Valid code means your site meets all current web development standards. The validation process is also helpful when checking for issues such as cross-browser and mobile compatibilities.
Search Engine Optimization (SEO). SEO is the optimization of your website with elements such as title, description and keyword tags, which help your website attain higher rankings in the search engines. During the testing process, your web designer paid close attention to code validation. The reason this is such an import process is because code validation plays a fundamental role in SEO. This is a very important step in finalizing your website because even though your site is published, we need to make sure that people can find it.
WordPress has a diverse range of plugins available, which will further enhance the default WordPress functionality. Additionally, many of these plugins are geared to directly improving your website's overall SEO performance. However, by design WordPress is very SEO friendly. All the robust features WordPress offers makes it appealing to many of the top brands including but not limited to: Time Magazine, Google, Facebook, Sony, Disney, LinkedIn, The New York Times, CNN, eBay, and more. It is for this reason, WebUpMedia does all its web design using WordPress.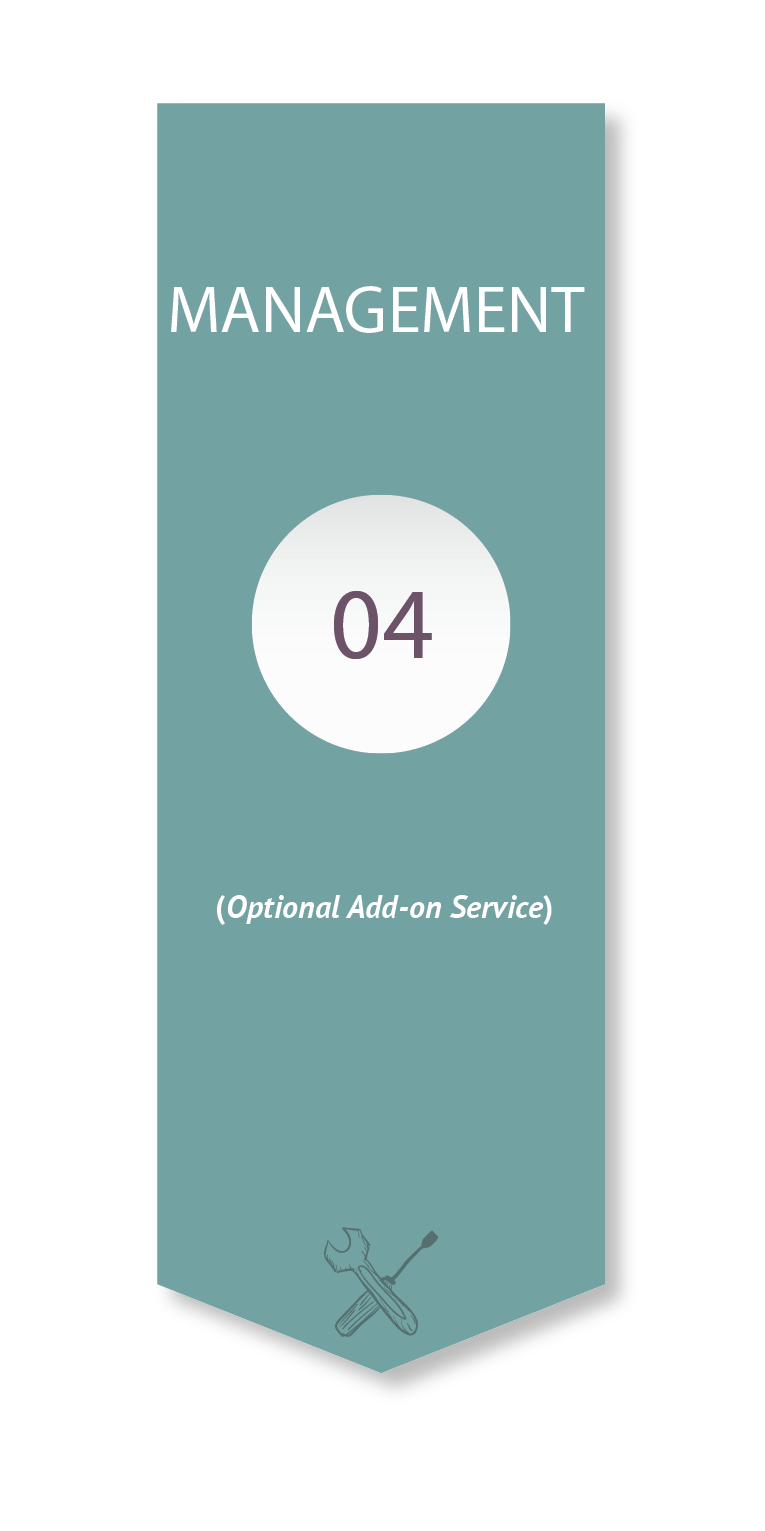 Step Four: Management (Optional Add-on Service)
Like so many things in our lives, your website will require your constant attention. Continuing to update your site is a great way to increase web traffic. You will need to regularly provide your visitors with new content and/or products to keep them coming back. The updates you make will are also extremely helpful with improving your ranking in search results.
WebUpMedia offers extremely affordable monthly Website Management Packages. You can discuss these different options with your web designer during the planning process to see if one of these packages is right for you.
Example items included in the monthly Management Packages:
Domain (Web Address) Renewal
Hosting
Backups
Security Checkups
No License or Software Fees (We will cover these charges for you as part of the package.)
Software updates / Site maintenance
Content Updates